Entertainment
Heroes With A Seventh Sense
When you watch series or movies with superheroes, they usually have some sort of special power that makes them extraordinarily stand out. You look up to them thinking you wish you had such superpowers. But have you ever wanted a sixth or seventh sense that helped you solve murder cases? If yes, this is the list for you! Below is a list of all the series with a protagonist who had 'extra special skills' which made the series a must watch!
1. The Mentalist:
Does it get any better than being able to read people's minds? Patrick Jane doesn't actually read people's minds, but he is such a sharp observer that it seems like he is almost reading someone's mind. The Mentalist follows a charming young man named Patrick Jane, a consultant for the California Bureau of Investigation (CBI) based in Sacramento, California. Patrick's entry into the bureau was fueled by his plan to avenge the murder of his wife and daughter by a deviant serial killer named Red John. The way he solves murder cases is a sight to watch. You will be hooked to the series till the very end.
His 'so-called' superpower is being a psychic. This helps him solve murders and even though he isn't really phsyic, he makes you believe he is.
2. The Good Doctor:
This series is about Shawn Murphy, a young autistic surgeon who has savant syndrome. Having survived a troubled childhood, Shaun is alone in the world and unable to personally connect with those around him, but uses his extraordinary medical skills and intuition to save lives and challenge the scepticism of his colleagues. He works tirelessly to prove to his colleagues that his extraordinary medical gifts will save lives.
3. Scorpion:
Scorpion is about a genius named Walter O'Brien who leads a group of brilliant misfits who are Homeland Security's new think tank. They help defend against the high-tech threats of the computer age. The team includes behaviourist Toby Curtis, mechanical prodigy Happy Quinn, and statistics lover Sylvester Dodd. While comfortable with one another, the team members struggle with understanding life outside their circle, so when they need help translating societal cues, they rely on the skills of Paige Dineen.
4. Sherlock Holmes:
Dr. John Watson is a war vet just home from Afghanistan. He meets the brilliant but eccentric Sherlock. He serves as a consultant to Scotland Yard. Watson becomes his roommate. And as soon as he moves in, they are embroiled in mysteries, and Sherlock's nemesis, Moriarty, appears to have a hand in the crimes. Sherlock solves every case like a pro using his perfect crime investigation gadget aka Smartphone. He's fast, intelligent and goes by his tasks like a magician.
5.Lucifer: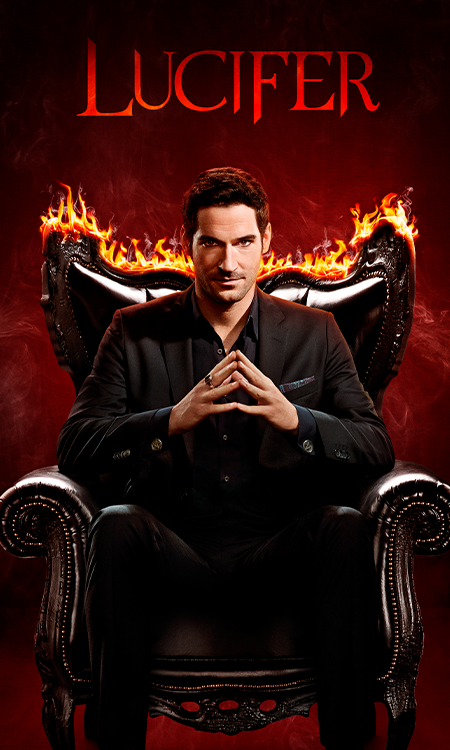 Lucifer Morningstar, gets bored with his monotonous life as the lord of hell. So, he decides to take a long-standing vacation in the city of angels. He makes a nightclub his hub and tries to keep on with his evil deeds the old way. While making the best out of his decision, he further trades a list of favours from all of his visiting clients. Then given the unfortunate murder of one of his clients, he eventually joins hands with an LAPD detective for further investigation. Lucifer gets so smitten with the detective that he eventually decides to join LAPD as a full-time consultant. What makes this series good is Lucifer's witty acts of using his power to sketch out people's darkest desires en route to solve the given cases.
6. Psych:
The main character named Shawn Spencer is portraying the role of a psychic here. Just like the mentalist, even this one talks about the usage of supernatural powers while reaching the conclusion of crime cases. Shawn is blessed with a fail-proof memory. The show kicks off when Shawn and his best friend Gus join hands with the police after making the latter believe that Shawn is a real psychic. As the police get to believe in this, they agree to hire Shawn in their quest to resolve some of the toughest cases.
7. Criminal Minds:
This series is based on a list of real-life crime scenarios with a team from the Federal Bureau of Investigation. The Behavioural Analysis unit firstly evaluates the situation while taking a shot at the behaviour of most ruthless criminals. Doing that, they correctly predict the next move of these criminals,  in hope to stop them from creating any more damage.
8. Limitless:
Limitless is about Brian Finch, who, possess extraordinary cognitive powers thanks to the mysterious drug NZT and works with the FBI to help solve complex cases. Working with him are Special Agent Rebecca Harris, an investigator with a dark past, and her associate, Special Agent Boyle, who is a former military officer.