Top 10
Wacky Facts You Didn't Know About F.R.I.E.N.D.S
"So no one told you life was gonna be this way
Your job's a joke, you're broke
Your love life's DOA
It's like you're always stuck in second gear
When it hasn't been your day, your week, your month
Or even your year, but
I'll be there for you…"
You sang along didn't you?
Friends as we all know is an American television sitcom which we have probably watched a thousand times and continue to do so. It just never gets old. Friends is made up of so many jokes, so much body comedy, so many surprises and awwws, and squeals of live-studio audience excitement. I'm sure you've all spent many nights recumbent on your sofa laughing at, say, Ross and Phoebe debating evolution, or Phoebe, Joey and Ross impersonating Chandler, or Chandler blanching at Monica's desperate new cornrows or Rachel taking forever to tell somebody who the father of her baby is. If any of these references didn't make you happy, you should probably reconsider your level of humor, jk, everyone has their own taste. Well now that I've given a highlight on this show, let's jump into the weird facts that you probably didn't know.
Friends was initially called "INSOMNIA CAFÉ" and a few other names.
In the early 1990s, the Friends co-creators David Crane and Marta Kauffman wrote a seven-page pitch for a new sitcom titled Insomnia Café. In addition to the different title, the plot itself was quite different from what came to be known as Friends. For example, Ross and Rachel weren't the key relationship. Instead, Joey and Monica were supposed to be the main love interest. After NBC bought the pilot, the title became Friends Like Us. NBC president, Warren Littlefield came up with another title that was also considered, Across the Hall. By the time they shot it, the title had switched again to Six of One. When the show premiered on September 22, 1994, they had finally landed on simply Friends.
Gunther's bleach hair was an accident.
Tyler who was known as Gunther on the show had a friend who wanted to be a hairdresser and wanted to practice bleaching someone's hair. So he offered and it came out white and that was the night before he was called in for the first day of shooting the first season. And ever since he became a recurring character on the show and had to dye his hair every week for 10 years.
The identity of "The Ugly Naked Guy" was revealed until 2016.
After the series finale of Friends aired, a reporter named Todd Van Luling finally uncovered the identity of the man who played "Ugly Naked Guy" on the show. The character, who lived in the apartment across from Monica and Rachel was frequently referenced, but only ever appeared on the show twice. And in neither of those appearances was his face visible. But after a year of research, Van Luling finally had his answer: Ugly Naked Guy was an extra named Jon Haugen.
Hank Azaria auditioned for the role of Joey.
Twice. But I guess he was destined to play David and go to Minsk for a really long time. (Maybe too long.)
Chandler and Mathew Perry – Together From Birth.
When Mathew told the producers that he was defensive and awkward around women, producers wrote it into the script. Way to keep it real, producers.Chandler's sarcastic wit was also authentic to Mathew. In fact, he was the only character of the Friends who was allowed to sit in with the scriptwriters of the show. They often use his jokes and suggestions to punch up the show.
Could he BE more Chandler?
The role Of Phoebe was originally offered to Ellen Degeneres.
It's hard not to like Ellen. But it's even harder to imagine anyone else but Lisa Kudrow in the role of our quirkiest Friend, Phoebe. I mean, who else could play a guitar that poorly and still make us like her?
Oh my goddd… Did you say it like she does too? Janice, Janice, Hey Janice
Janice and her surprise appearances were always kept a secret from the live audience. Actress Maggie Wheeler was hidden in her dressing room and then behind a black screen so the audience wouldn't catch on. Who knew she could be so quiet?
The term "In The Friend Zone" came from Friends.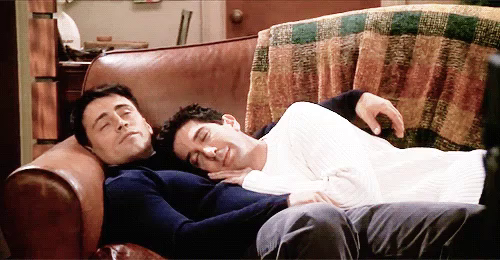 The expression has been around for so long now that we take it for granted. But it actually first became a thing when Joey tells Ross that he was "the mayor of the friend zone" in the very first season of the show.
The Monica and Chandler Hookup.
When Monica and Chandler hooked up in London, the live audience went wild. They actually screamed for 27 seconds. And that's when producers decided to keep them as a couple. Guess live audiences make the best matchmakers.
Originally the show was going to focus on just four characters:
Monica, Ross, Rachel, and Joey. Phoebe and Chandler were going to be supporting characters. Imagine how it would have been then?
Wrapping Up
Friends was unique in its era. There was never a show focused entirely on the lives of people in their twenties. A time when you're learning so much about life and about yourself. And a time when you really count on your friends to get you through. Obviously, it was a story many people related to. In fact, we still can't seem to get enough of it today. Was it the writing, the production, or the unique chemistry of the cast that made it so iconic? Whatever the case may be, we'll always love our Friends.
Read more on Bollywood Nepotism.