GeoPolitics
Salman Khan- His Controversies
Salman Khan as we all know is a very famous Bollywood actor, producer, occasional singer and television personality. In addition to his acting career, Salman Khan also promotes humanitarian causes through his charity, the Being Human Foundation. But, Salman Khan's off-screen life is filled with controversies and legal troubles. Salman Khan has always been in the news for the wrong reasons. And while his films refuse to get out of the 300 crore club, his personal life has been in trouble for almost fifteen years now. Let us take a look at the trouble he has been in so far:
1. Black Buck Shooting
The black buck shooting case happened in 1999 when Salman Khan and his co-stars from the movie "Hum Saath Saath Hain" were accused of hunting an endangered chinkara and black buck deer while shooting in Jodhpur for the film. Salman was sentenced to five years but he was in jail for just 18 days. The case is still being dragged out in courts.
2. Hit And Run
The hit-and-run case that we all know about happened in 2002. His car crushed five people outside a bakery in Mumbai's Bandra suburb. One of them was killed and four others were injured. For which he said he was intoxicated. He is out on bail presently, the case has not ended yet as hearings and appeals remain to be played out in court. This is the murkiest controversy he has ever been in with accusations of manipulating witnesses and improper evidence.
3. Unfair Treatment
Salman Khan has also been associated with Aishwarya Rai. Both of them were in a relationship but their paths have diverged. The reasons for the separation are different. In an interview, Aishwarya has said that Salman used to beat her unnecessarily. Apart from Aishwarya, there was a news that Salman was about to slap Katrina, Kareena had saved Katrina but no concrete evidence could be found so far. In this way, it is proved that Salman Khan is short-tempered and in anger he can beat anyone.
4. Salman Khan's spat with Vivek Oberoi
After breaking up with Salman, Aishwarya reportedly started dating Vivek Oberoi. In 2003, Vivek held a press conference in which he said that Salman had called him one night 31 times and even threatened to kill him. Salman was reportedly miffed with Oberoi for dating Aishwarya.
5 Anti-War Remark:
During his movie Tubelight's press conference, Salman Khan had spoken in favour of talks with Pakistan at a time of tension in ties over increased militancy in Kashmir, saying "those who order wars should be sent to the forefront and be told that you fight first." His remarks had created an uproar in the public.
6 Rape Remark:
In June 2016, Salman Khan had stirred up a storm during an interview. He compared his rigorous Sultan training session to the pain felt by a raped woman. The actor was quoted as saying, "When I used to walk out of the ring, after the shoot, I used to feel like a raped woman. I couldn't walk straight. I would eat and then, head right back to training. That couldn't stop." He was criticised by the media and several Bollywood celebrities alike.
7. The brawl between Salman and Shah Rukh Khan
At Katrina Kaif's, birthday party both Khans got into an ugly fight. This happened when SRK reportedly made some remarks on Aishwarya Rai which didn't go well with Salman. The fight went on till five-year post and both the stars stopped talking to each other. They patched up at Baba Siddiqui's Iftar party in 2013 where they both hugged each other and broke the cold war.
8. Salman Khan on 26/11 attack
The nation was irked when Salman Khan had made insensitive remarks 26/11 attack on Mumbai. He got into trouble when he said in an interview to a Pakistani channel that the attack was highlighted just because it was targeted at the elite class, as it took place at a 5-star hotel in Mumbai. It did not go well with the political parties and Salman had to apologie for his statements later.
9. Salman Khan using the word 'Bhangi'
Salman Khan landed himself into controversy after using the word 'Bhangi' when he was asked to comment on his dancing style. This didn't go well with the members of the Valmiki community who launched a complaint against the actor. The angry members of the community also held protests against him. The actor later issued an apology.
10. Salman Khan after tweeting in support of Yakub Memon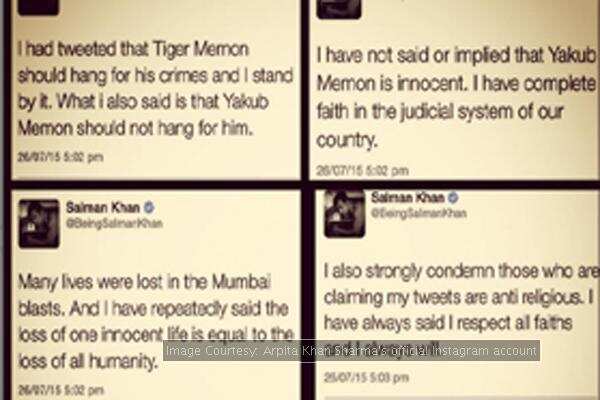 Salman had tweeted in support of 1993 Mumbai serial blast convict Yakub Memon. Soon after the verdict on the Mumbai serial blast was declared, Khan had tweeted,"Brother is being hanged for tiger" and followed it up with,"1 innocent man killed is killing the humanity". Uproar ensued on social media. Salim Khan, the actor's father, had to intervene to save him and Salman had to apologise.
Attempt To Whitewash His Image.
Salman has desperately to change his image over the years. Yet, while many believe that he has changed for the better, his past continues to haunt him till today. Over the past few years, Salman has tried to consciously change his course direction from a misguided brat to a big-hearted man in Bollywood. It hasn't been an easy process, and he has slipped up a few times. But the general consensus in the film industry is, that he is "a peaceful, loving, and giving man".
Wrapping Up
Salman Khan somehow always manages to be in the headlines, whether it's for his movies or something that he has said or done. What do you think about him? Let us know in the comments.